CONGRATULATIONS TO OUR 2017 DEFEND YOUR MOVES AWARD WINNERS!!!!!!!!!!!!!
And congratulations to the entire DYM Community on a record voter turnout! This was a truly unprecedented DYM Awards season. A team defense has never been nominated, and they came away with a landslide victory – The Jaguars' 6 votes were the most any DYM Award candidate had ever received. There had also never been a tie in DYM Award history. We really had no idea what to do, hadn't even considered it as a possibility so there are no tie-breaking procedures. Shout outs to the DYM Media Division for coming up with the extra-wide group photo. Great work, as always, guys.
Let us know in the comments if you like having co-award-winners or if y'all have any ideas for tie breakers.
WEEK 13: WIN OR GO HOME
Well, folks, this is the last week of the regular season so everybody's going to play a fantasy game this week. But, right now, only two teams know for sure whether they will be playing again next week. The Commish is still the only team eliminated, and Team Meh, at 6-6, is locked into 5th place. AND THAT'S IT! Everybody else is competing this week for a playoff spot or a bye. Looks like this fucking rollercoaster of a season is gonna have a few more loopadiloops before we reach the playoffs.
Let's start at the bottom: There are three teams at 4-8 and all of them have more points than Polk High Panthers who currently hold the final playoff spot. A couple weeks ago we thought the PHP vs White walkers matchup would really be our first playoff game with the winner advancing to week 14 and the loser being out. Instead only PHP are IN with a WIN. If the Walkers, Bitchslapped and/or Doug win whoever scores the most would get in, although Abby holds a 35 point advantage. 35 seems like a ton of ground to cover but don't forget all of these 4-8 teams are highly volatile. Although Doug and Abby combined for 290 points last week, they've both had 70pt efforts this month, so anything is possible here.
The top half of the league is set-up similarly. The top four teams are separated by 1 game and the lower ranked teams hold all the tie-breaker advantages. That means Rob and Jeff need to win to hold on to their coveted bye weeks. If either Jeff or Rob lose, and Paul or I win, then the winners most likely take over Bye-Week position. We say "likely" because Jeff has no chance of gaining a tie break as he is over 100 points behind any other playoff team, but Rob trails Paul by 38 so a BIG score could keep him in first even with a loss and a GR win.
WHOS HOT?!?
Just as WhosHotStradamus had foreseen, week 12 was a regular holiday FEAST. It was the highest scoring week of the season for the entire league. The average score in the league last week was 115, which was 11 points higher than week 11. Unfortunately, things look like they'll be back to normal this week with some more competitive NFL contests. There are no 50+pt O/U's and no 10+spreads, so this should be back to the same 2017 bullshit with totally unpredictable scores and everybody's best players on the bench. Enjoy!
FUCK YEA!!!!!!!!!!! JERSEY SHORE IS COMING BACK!! LETS GO!!!!!!!!!!!!!!
Have you guys heard about this? Amazing.
We never quite understood what Trump meant when he said he was gonna Make America Great Again, but now we get it. Jersey Shore was our favorite show during Josh Gordon's rookie year. What better way to celebrate the return of The GOAT Josh Gordon than with the return of some other guys who were on drugs throughout the peak of their careers.
According to Variety, the new show will return all of our favorite JS characters:
The Situation, Snooki, Snooki's friend Deena, Pauly D, JWOWW, Vinny, and
Ronnie (without Sam, thank God). Sammi and Ron had a toxic relationship that was really uncomfortable to watch sometimes. I'm gonna assume they never got back together after the show. They broke up for the 15th time on the last episode of season 6, and it was pretty devastating. As Wikipedia describes it:
"Vinny and Pauly decide to take Sam and Ron's bed to the roof because of Sammi's earlier prank on the boys, however, they pop the inflatable bed. Upon finding out, Ron gets extremely mad and blames it on Sammi, causing another fight, thus causing them to question their relationship."
Being wrongly accused of popping your own air mattress is a tough cross to bear. Not many relationships are strong enough to come back from that. Godspeed, Sammi Sweatheart.
SPECIAL ED MATCUP PREVIEWS:
Trump National Goff Club vs -10 Yards of Eli
@DEFENDYOURMOVES twitter is 99% Josh Gordon practice videos this week. We can't stop watching em. If you think we're not gonna start THE GOAT this week for the first time in 3 LONG years you don't know shit about Defend Your Fucking Moves.
DYM WINS!!!!!!!!!!!!!
Polk High Panthers vs White Walkers
Do you guys think PHP is really gonna start Kirk Cousins with THE SEASON on the line??
PHP WINS!!!!!!!!!!!!!
BitchSlapped vs. ¡Que Lástima!
It's not often that you see a team tied for 1st place eschew two healthy starting players going into week 13, but ¡Que Lástima! is not your average first place team. Doug Martin and Jordy Nelson (1st round pick!!) have been dropped, and Ted Ginn looks to hit the bench (so he'll probably score 40). They have moved up to 7th place in the heat index, but remain an underwhelming team. This week they will start 3 players who were not on the team the last time they won a game. We've picked Ertz to lose 9 times this year (nine times? nine times), and although we've been wrong a lot, we're gonna go back to that well a couple more times before it's all over.
BITCHSLAPPED WINS!!!!!!!!!!!!!
Saquons Heisman vs. Golden Richards
GR squad is looking like a beast right now and they have a pair of brand new DYM Awards to hang their hat on. They can rest on their laurels this week. This cake walk game is basically a bye week for Golden Richards as The Commish looks to regroup before the Constellation Tournament in week 15.
GR WINS!!!!!!!!!!!!!
Team Meh vs. Randall Cummingham
There is a scenario where TM and RC will play each other again next week. It's the worst possible scenario for RC: They lose while Ertz, Paul and my team all win; that leaves them in 4th and Meh would stay in 5th. If TM was real sneaky they'd throw this game so they have a chance to play Ertz instead. Good thing TM doesn't read this.
RC WINS!!!!!!!!!!!!!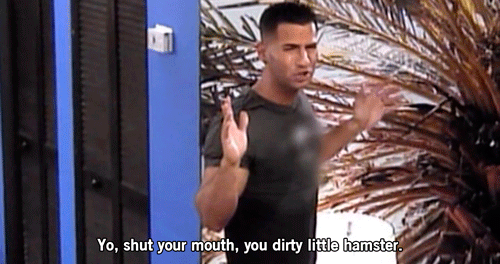 WHOSHOTSTRADAMUS' 2017 FINAL STANDINGS: 1 – Randall Cummingham
2 – Trump National Goff Club
3 – Golden Richards
4 – ¡Que Lástima!
5 – Team Meh
6 – Polk High Panthers
7 – Bitchslapped
8 – White Walkers
9 - -10 Yards of Eli
10 – Saquons Heisman
HAVE A GREAT WEEK EVERYBODY!!!!!!!!!!!!!