Listen folks, we are sick and tired of these FAKE TOE INJURIES! The NFL media intelligence community is in a shambles, the worst it's ever been. And we all know the problem don't we folks, REGULATIONS! The league imposes so many regulations on injury designations its killing business in this country. Employment is at an all-time high but productivity is never lower than when a player in a primetime game shows up on a FAKE INJURY REPORT with a mid-week toe injury! Twice this week we have spent the better part of a work day refreshing rotoworld and searching twitter for any nugget of information on our players' toes. It's crazy, I'm the President, we need an hourly briefing from Schefter and Mort!!
This year, we've got some of the best fantasy teams you've ever seen competing for the Special Ed Super Bowl, EVERY SPECIAL ED CHAMPION is here and also Jeff Ertz. His team isn't so good, we call them "OK Lastima". Get it?
The Special Ed Super Bowl is the rarest greatest honor in all of fantasy football. My researchers tell me only 5 current Special Ed teams have ever made it to week 16 (*ed note: shouts out to Bad Ass Accountants), and we have four of them in this year's playoffs. Incredible. Just fantastic. We have the greatest researchers, they're true scholars, they know EVERYTHING about Special Ed History. Look at these numbers!
That's a lot of numbers, folks. And also colors, beautiful colors! Fantastic. That's what we call an IN-FO-GRA-PHIC. It is beautiful. Both of this week's playoff matchups have one former champ vs a non-champ.  My people have read all of these numbers and they tell me that both of the Champs are also the hot teams this week.
We've got a rematch of the 2014 SESB, the greatest SESB of all time. A lot of people don't know that the 2014 SESB was the closest championship game in history and the first time both teams scored over 120. A hundred Twenty is what we call a "good game", that's a score you want, anything under that, you might LOSE and your team might not be good. According to my sources, and they are the greatest minds in Special Ed, the 2014 CHAMP is the only team this year averaging over a hundred twenty points per game. We were SHOCKED that they didn't get a bye. These Obama era policies allowed UNAMERICAN teams like Que Lastima to steal a prime playoff spot from one of us, it's sad. I hate when these teams come into our league and refuse to learn English. Just disrespectful.
The other hot team in a playoff matchup is Tacos, the two-time champ. This is another disrespectful Unamerican team that has no place in these playoffs. That team is supposed to be the hottest team around but we're NOT BUYING IT! That's FAKE NEWS! This team scored 57 points in week 7. Fifty Seven!!! This team is not good. That's a VERY LOW SCORE! That was with their "best" players, Cam and Gronk, both playing. Well this week it looks like that CRIMINAL Gronk has finally been LOCKED UP. Cooper Kupp and Robbie Anderson are starting for this playoff team, and they've got 2 kickers and 2 defenses. Disgusting. We are OFFICIALLY endorsing Randall Cummingham for a week 14 win, that should be worth at least 15 points.
But look folks, football is dying. The entire sport is in a death spiral. That Thursday night game was kind of hard to watch wasn't it? Brutal. But there is one thing that Americans of all ages can still embrace this time of year and that's STAR WARS!!!!!!!!!!!!!!
That's right folks, we are only 7 days away from the premier of Episode VIII The Last Jedi!!!!!!!!
Episode 7 was great. A very fine movie, watched it 47 times. But Han Solo was the best part by far, and he died at the end. Now the thing everybody wants to know is who Rey's parents are, I think we'll find out right at the end just like in Empire Strikes Back. We are Officially Endorsing Luke Skywalker as Rey's estranged father. Also, we've seen some shots from the trailers that have us very excited for next weekend:
A lot of people don't realize that these are not the AT-AT model armored ground vehicles from Empire. The front legs have longer, rectangular footpads. They likely added those after the battle of Hoth where the AT-AT's lack of balance and stability were exposed as a major weakness. These vehicles also have a larger upper back area, which likely contain higher caliber firepower. These are like what our military has now, and we sell all the AT-ATs to France.
We like Poe as the heir apparent to Han Solo as the slick-talking star pilot/scoundrel of the group. Just like me and Putin, BB-8 and Poe have a great report that we didn't get to see enough of on camera. Looking forward to seeing these guys reunited.
The planets we saw the least of in episode seven were definitely the most interesting. Hopefully we'll get a lot more of Luke's island and a lot less of that junkyard Jakku. Everybody hates Jakku.
Yea, like I said, Hopefully we see a lot more of this, cause Rey needs some work. She doesn't look entirely fluid with that lightsaber yet. She missed the rock!
This won't be nearly as dramatic as the "Chewie, we're home." scene but it still looks very exciting.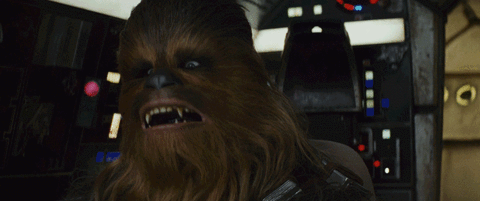 FUCKING SEAGULLS!
HAVE A GREAT WEEK EVERYBODY!!!!!!!!!!!!!!