DUMPSTER DIVER OF THE WEEK:
JEDI LOLA BUNNY (

8 MOVES)!!!!!!!
PICKUP OF THE WEEK:

JD McKISSIC!!!!!!


WHATS UP SPECIAL ED?!?!?!?
Bye weeks and injuries are hitting hard for an unlucky few teams every week. This week 24 moves were made in Special Ed. That's not bad, considering only 8 teams made moves. But 1/3 of all moves this week were made by yours truly, TEAM DYM!! LETS GO!!!!!!! No trades yet this week, but there were a couple of BIG NAME DROPS!!!!! Three "starting RBs" - Melvin Gordon, Michael Carter, and Eli Mitchell - and Two "keeper" QBs - Lance and Fields. Plus former DYM Legend Will Fuller got dropped for Ernest P Worrell (great move!), and perhaps the most ignoble of all drops this season - Allen Robinson dropped for Darnell Mooney.
BAM!!
This move felt GREAT but it wasn't just a spite drop - Mooney has scored more fantasy points than A-Rob in almost every game this year, and they have the same number of TDs (1). He's got more catches and more yards, and we think it's sustainable. All across the NFL this year we're seeing a deep-play-receiver renaissance: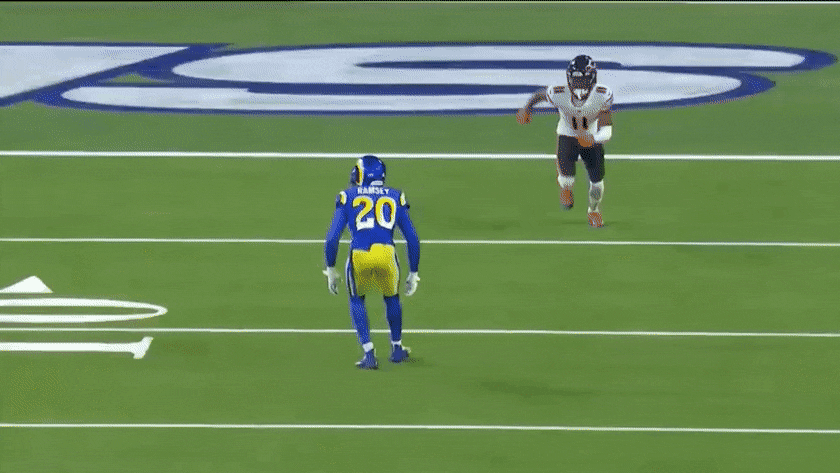 Mooney is better than A-Rob.

Emmanuel Sanders is better than Diggs

Mike Williams is better than Keenan Allen

Jamar Chase is waaay better than Boyd and Higgins

Hollywood Brown is a top 5 WR

Brandin Cooks is top 20 and he doesn't even have a quarterback!
Passing volume and passing efficiency have been rising in the NFL for some time, this isn't news. But every few years there's a new beneficiary of this rising tide. First it was slot receivers, then pass-catching RBs. Now DYM has identified the next phase in NFL passing offense: In the new era air yards is king.
It used to be that the slot receiver was the most reliable source of PPR fantasy points. The "big play" receivers like Desean Jackson were "boom-or-bust" in fantasy. All their yardage and TDs were gonna come on a few big plays and we were never really sure when the big play was gonna be. This year Hollywood Brown has a 20+ yard reception in every game, and it's a pretty safe bet he's gonna get one in every game where him and Lamar are healthy.
Last year there were 40 WRs with an ADOT of at least 12yds, only 5 of them got more than 100 targets on the season.
This year through 6 weeks there are 46 WRs with a 12+ ADOT, and SIXTEEN (16) of them are on pace for 100 targets (37 targets through 6 weeks). Five of the top six WRs in this fantasy league are in that cohort. Last year Tyreek Hill was the only top 6 WR with an ADOT over 12yds.
So Team DYM is loading up on these home-run hitters right now - even dusty-ass AJ Green's still got an 11.7 ADOT right now, so fuck it.
But the pickup of the week is JD McKissic - and just not because he has a solid floor for touches now with Gibson nursing a bad shank.
When we picked him up on Sunday it was the first time we noticed he has a BATMAN TATTOO!!!!! Fuck yea, my dude!!!
The DYM editor in chief is a long-time Batman tattoo haver from way back. We prefer the rounded-style logo from Batman The Animated Series, but we definitely respect the Christian Bale logo tattoo since it's the go-to for porn stars and other goth millennials.
WHOS HOT?!?!?!?
You know who it is. ITS ME BITCHES!!!
FOOD BEEF VI: BURGERS!!!!!!!
This Week - RIVER GRILLE!!!!!!!
River Grille is the shit. DYM Scholars will recall River Grille was a finalist in the 2017 Food Beef Wing Tour. RG will be a stop on nearly every Food Beef tour that they qualify for 'cause of that one time we were there with The Commish in 2013 and Rex Ryan came through for lunch (Jets were on bye). 2013 was the beginning of the skinny-Rex era but still we know Rex would never fuck with anything less than the very best bar food. So whether its wings, burgers, draft beers, or bathroom cocaine - River Grille is always gonna make the list.
Right now there's a ramshackle DIY outdoor bar at River that takes up 3/4 of the already way-too-small parking lot. This place gets packed, so people must be parking three blocks away at night. We're not looking forward to that, but the outdoor atmosphere was exceedingly pleasant in the daytime.
When we sat down at the bar there was something dangling from the purse hook by our leg. We look down and found a stocking with a bar of soap in it.
We decided right then that no matter what happens with the burger they're definitely getting Bonus Points for the casual offering of prison weapons. And we were very likely to push them right into the playoffs.
As it turned out the burger was very good. Pretty much every element - meat, veggie, cheese, bun - were second only to 54 Main on this Tour so far. The veggies had a satisfying crunch and the meat was really nicely cooked - still red in the middle. The patty was very big but not too fat to get your mouth around. We got pepper jack cheese and were very pleasantly surprised with how peppery it was. Really good burger.
Food Beef Score: 8.5
Bonus Point for Prison Weapons: +.5
BURGER SCORE: 9
MISS CLEO'S WEEK 7 PLAYER OF THE WEEK
TYREEK HILL!!!!!!!
Miss Cleo's Prop Bet Record: 4-2
AMERICAS GAME OF THE WEEK!!!!!!!
PICKLE RICKS!! vs JEDI LOLA BUNNY🐰⚔️
AGOTW Prediction Record: 4-2
Normally we try to avoid having the same team in AGOTW two weeks in a row, but this is a HUGE matchup that cannot be ignored. Pickle Ricks have been in first place for the last three weeks, but now find themselves in a 6-way-tie atop the standings. This would be a huge win for The Ricks on a personal level as well. They're craving revenge right now for how we sold em that lemon McCaffrey; He's not coming back soon and Najee has been an absolute BEAST since he joined Team DYM. We know Dave thinks about it all the time cause he still has Najee in the Class of '99 League. And it just so happens that we're matched up over there this week too, so this is a double-revenge opportunity for Dave.
This is the very worst of the bye weeks for team DYM. Hollywood Brown is the only guy in our lineup that's started more than 1 game for us this year. It's ugly. We're rolling Matt Ryan and AJ Green out like it's 2011. We should probably go check if Jay Cutler is available tho. Dave also drafted Ekeler in both leagues so we both got weirdos at RB all over the place this week. We got shitty-ass Miles Sanders, JD McKissic, Darrel (one L), Chuba (one B), 2 Javonte's, Rashad Penny, and somebody named Kenyan Drake who's neither Kenyan nor Canadian. Yuck. In the '99 League Dave snagged out guy D'Ernest so we think he gets the win over there. But in Special Ed we got momentum in our side - The WHO'S HOT?!-O-Meter up there says we're smokin hot and Pickle Ricks is room temp like Mama Bear's porridge.
Class of '99 League Prediction:
Magic Fountain - 129.87
2x SHS BANNER HANGER - 101.01
Special Ed League Prediction:
PICKLE RICKS!! - 112.62
JEDI LOLA BUNNY🐰⚔️ - 131.37
JEDI LOLA BUNNY🐰⚔️ WINS!!!!!!!
Tobin is out here hustling moves at the eleventh hour to replace Antonio Brown, and we gotta respect it. We hope they get something done cause their gonna win regardless and we'd hate to put the Commish in The Hall of Shame.
TOBIN & THE RIPPERS WINS!!!!!!!
Tough break for Sharon Ertz. If they were gonna have any chance to win this week it woulda been with that Beast Mode D'Ernest in the starting lineup. Benching him for Miles and Antonio Gibshin was defensible at the time, but is already looking like a real bad call.
BRING IT ON HOME WINS!!!!!!!
Both these teams are missing 2 starting RBs and a starting WR this week. The best player on each side for this week is the QB and we got Mahomes over Rodgers everytime. Paul's "Awesome" Team might not win another game this year now that they've been touched by Miss Cleo's curse.
🦩DOUBLE🦢 WINS!!!!!!!


The worst part about PAT eschewing Miss Cleo's sage advice® last week is that he gave away a win to the fraudulent No And Then! who get to spend another week amongst us real power house squads in the 6-way first place tie. Tobin did his job, we took care of business too. Fortunately PHP's only good player out on bye this week is Diggs, who he shoulda benched for Brandin Cooks a long time ago anyway.
POLK HIGH PANTHERS WINS!!!!!!!
HAVE A GREAT WEEK EVERYBODY!!!!!!!